Quadcross NW headed to Spokane to get crazy on Airway Heights MX's track. Cody Irving took both Pro and Pro-Am wins and the podium saw some new faces as Jorie Williams was absent in preparation for Baja. Cody also had the fastest Pro qualifying lap, followed by Phil Oppen and Ruby Davis.
Production and Vet classes had excellent turnout on Saturday, with a good showing of UTVs as well. Dave Pursell took the UTV win home on Saturday with a 1-1, beating 5 other UTVs. Dave also took home the Vet B win, but it was not so easily won. In the first moto,  Garren Marlatt took the win, followed by Doug Falstad and then Dave Pursell. In Moto two Pursell managed to get the win, followed closely by Doug Falstad and Duane Moye. Marlatt would finish 4th that moto, enough for 3rd for the day.
Saturday's Production A race was won by Josh Fain with a consistent 2-2. Ze'vyer Mott went 5th and 1 for second and Tyler Nelson went 3-3 for 3rd. Casey Streepy made an appearance, winning the 1st moto but wrecked hard in the second moto for 4th for the day.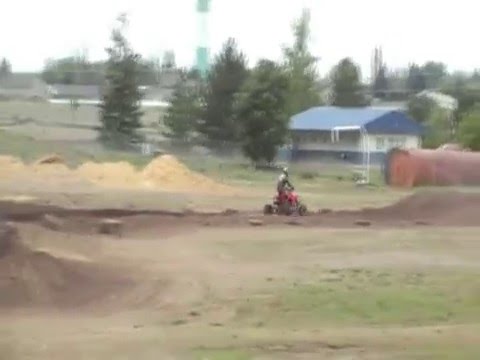 Sunday's turnout was less than Saturday's but the battles on the track were still top notch.  With the absence of Jorie Williams, it was up to Phil Oppen, Clay Forenpohar, Stick Owens, Ruby Davis or Bryan Martin to take the win from Cody. Unfortunately for the other Pros, nobody had anything for Cody, and he went 1-1 for 1st overall and regained the points lead for the series. Bryan Martin unveiled the new ThreeTwo Motosports  and promptly wadded himself and his new ride up in the chase for 3rd place. Watch the video here.
The final results were Cody Irving, Clay Forenpohar, and Stick Owens for the Pro Class.
See the full results and get more information here: http://www.tracksideresults.com/quadcrossnw/class.asp
Photos courtesy of the QuadcrossNW Facebook page.
The next round of Quadcross NW is at Albany June 23rd and 24th. This is expected to be a large round with riders coming from Washington, Oregon, and California. This is the halfway point for the season – with only 3 event weekends left it will be exciting racing from Albany to Washougal!